Nioa tests hmas canberras cannons at brisbane facility
NIOA tests HMAS Canberra's cannons at Brisbane facility
NIOA, Australia's largest supplier of firearms, ammunition and optics, has recently completed training and testing of the cannons that protect HMAS Canberra. NIOA have a large facility in Brisbane that includes a state-of-the-art 100 metre indoor firing range capable of testing commercial, law enforcement and military weapons that includes up to 40 millimetre cannons.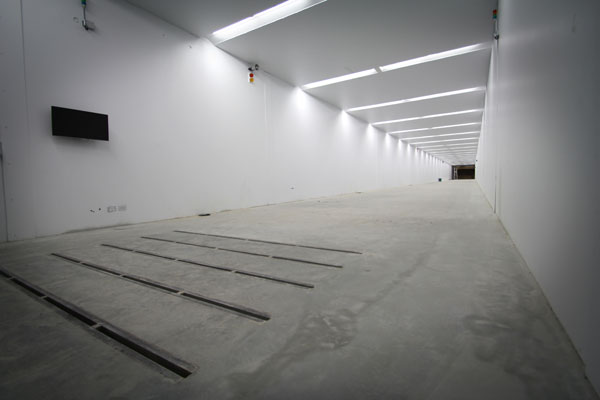 NIOA's 100 metre indoor firing range
Overseen by Royal Australian Navy personnel, NIOA completed armourer training and serial inspections for the Canberra's OrbitalATK M245 25 millimetre Chain Gun. The training and inspections were the first conducted on M242 cannons in NIOA's new weapon support facility near the Brisbane Airport.
Greg Toms, NIOA's Technical and Armoury Services Manager, said 'It was a great opportunity to have NIOA staff accredited by OrbitalATK to conduct this activity and to commission our support capability for medium calibre cannons here in Brisbane. The facilities we have for repair, maintenance and test firing of medium calibre cannons are second to none in Australia. Successful completion of the required series inspections on these cannons demonstrates that we have the capability to support the entire range of OrbitalATK medium calibre cannons up to 40 millimetre, including those being offered for LAND 400.'
NIOA's privately owned facility opened in July 2014 and is unique in Australia, and has Defence Industry Security Program (DISP) accreditation. The new facility features:
the largest secure weapons storage, maintenance and repair facility in Australia
over 5,000 square metres of high security Defence accredited warehousing space
optics repair centre and heavy grade weapons repair facility
100 metre indoor test fire range for up to 40 millimetre cannons
200 seat training auditorium
integrated logistics support capability with ready airside access.
Please visit NIOA's website for more information about their capabilities.


NIOA opened their new facility near the Brisbane Airport in July 2014
Last updated: Monday, Jul 6, 2015