Indo Pacific 2023

The Queensland Government and Defence Jobs Queensland (DJQ) joined Queensland's leading naval defence and commercial maritime suppliers to showcase our state's sea capabilities to key national and international decision makers at the Indo Pacific 2023 International Maritime Exposition.
Indo Pacific 2023 was the 13th in the biennial series, building on successful events since 2000. It was held at the Sydney International Convention Centre, from 7-9 November. The event is a platform for engagement and incorporates an international industry exhibition, a specialist conference program featuring presentations and symposia from leading maritime institutions, and networking opportunities.
Indo Pacific is the region's premier commercial maritime and naval defence exposition, connecting Australian and international defence, industry, government, academia and technology leaders in the national interest.
Joining us on the Queensland Government stand at Indo Pacific 2023 to promote our state's maritime industry were the following 18 companies:
Indo Pacific 2023 Defence and industry leaders' networking breakfast
On Wednesday 8 November, the Queensland Government and DJQ hosted a networking breakfast for Defence and industry leaders attending Indo Pacific 2023 at Darling Harbour, Sydney.
The breakfast was attended by approximately 100 representatives from industry, Defence and government, with Rear Admiral David Mann CSC RAN, Head of Joint Capabilities – Joint Capabilities Group delivering a keynote address on Joint Capabilities in DSR implementation and the implications for industry and academia at all levels. The Queensland Government's Strategic Defence Advisor for Maritime, Rear Admiral Simon Cullen AM CSC (Ret'd) MC'd the event.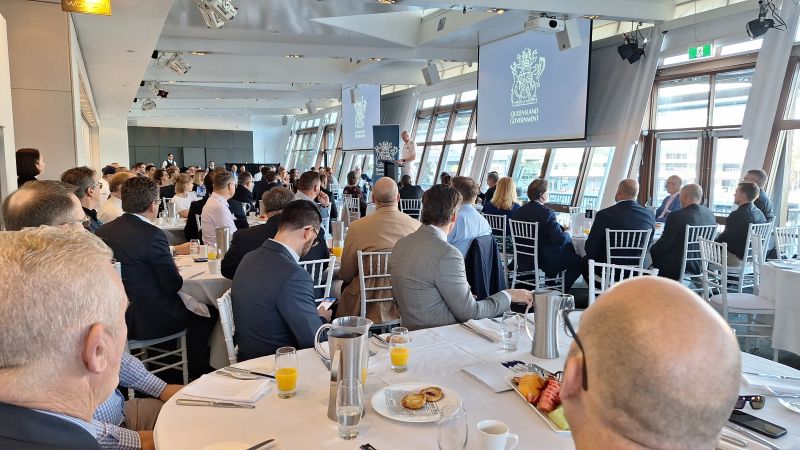 Last updated: 22 Nov 2023