Two new kc 30a multi role tanker transport planes for raaf amberley
Two new KC-30A Multi-Role Tanker Transport planes for RAAF Amberley
The Minister for Defence announced on 1 July 2015 that the Royal Australian Air Force will receive two additional KC-30A Multi-Role Tanker Transport (MRTT) aircraft costing approximately A$408 million. Manufactured by Airbus Defence and Space, the KC-30A is an aerial refuelling tanker aircraft based on the civilian Airbus A330. The new acquisitions are due to be delivered in 2018 and will increase Australia's fleet to seven, all of which are based at Amberley.
The KC-30A plays a very important role in the Middle East region capable of air-to-air refuelling for both Australian and Coalition fighter aircraft. This enables the aircraft to remain in the air longer, extending their range and persistence. The aircraft has a fuel capacity of more than 100 tonnes and can refuel F/A-18A/B Hornets, F/A-18F Super Hornets, E-7A Wedgetail, C-17A Globemasters and other KC-30A aircraft. In the future it will be able to also refuel EA-18G Growler, P-8A Poseidon and the F-35A Joint Strike Fighter.
In its transport role, the KC-30A is capable of carrying 270 passengers, comes with under-floor cargo compartments and is able to accommodate 34,000 kgs of military and civilian cargo pallets and containers.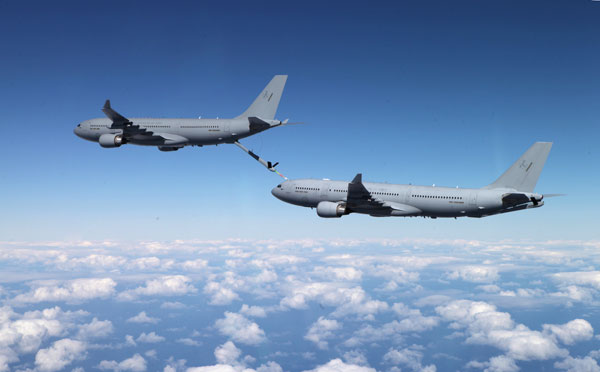 Image courtesy of Department of Defence
Last updated: Tuesday, Jul 14, 2015