Counter drone technology debuts in queensland
Counter drone technology debuts in Queensland
A new counter drone capability, developed in the United States and known as MESMER, has been launched in Australia by Queensland company EPE.
The company has partnered with United States firm, Department 13, to bring the technology to Australia. Its capability was demonstrated at the launch in Brisbane in March 2017, following the trial of the prototype in Australia in November 2016.
The MESMER counter drone capability differs from other technology by enabling the operator to stop, redirect, land or take control of a target drone. Other counter drone systems use radio jamming and standard electronic mitigation techniques, however MESMER uses signal features and metadata to select and apply strategies in order to minimise the threat a rogue drone may pose.
As MESMER doesn't attempt to overpower signals, the platform is low-power and will not affect non-targeted communications signals. This allows it to be operated below one watt and within Australian regulatory limits.
The MESMER capability was tested successfully last year by the United States Defense Department in an evaluation exercise for the counter unmanned aerial system (UAS) called Black Dart.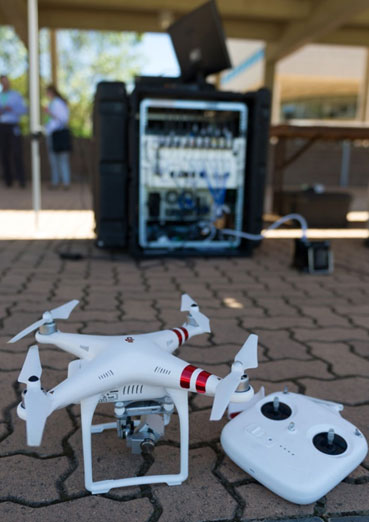 Above: MESMER counter drone (Photo courtesy of EPE)
Last updated: Wednesday, Apr 12, 2017