Aerospace engineer it s not just a job it s a passion
Industry feature: Aerospace Engineer – "it's not just a job, it's a passion"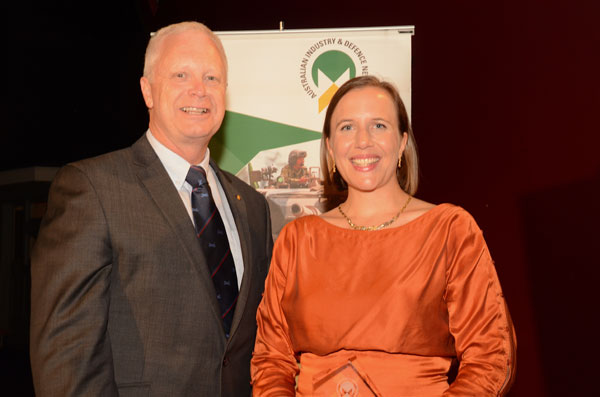 Rachel Harch, pictured with Air Chief Marshal Mark Binskin AC, Chief of the Defence Force, receiving her award at the 2017 AIDN National Annual Dinner in Canberra
Aerospace Engineer – "it's not just a job, it's a passion"
When we heard that Rachel Harch, an Aerospace Engineer at Brisbane's Nova Systems, had recently won the 2017 AIDN National Young Achiever Award—the first winner from Queensland in the award's nine-year history—we couldn't wait to meet her to find out more about her career to date.
Rachel, how did your interests in STEM (science, technology, engineering, mathematics) develop when you were younger?
My father is an engineer and I don't think I ever thought about not becoming an engineer. It seemed like the only real career choice. I did maths and science subjects at school and had some great teachers. For me, numbers have a feeling; they have a richness like language.
How did your university experience refine your interest areas?
I chose aerospace engineering, which is a form of mechanical engineering, and I also did a physics degree. So, you can say that I'm well engaged on STEM.
Honours was built into my five-year degree. One of those semesters I studied in the United States at Purdue University. That's where about a third of the astronauts study, and it's a very strong aeronautical and astronautical college.
How did your career get started following your studies?
At the time I graduated, with first class honours, defence was not booming, it was all about mining. However, I had been able to gain work experience while still at university with both Tenix Defence which is now part of BAE Systems, and AusAero which is now Airbus. After university, I was able to get a job with Thales in Canberra, and then during that first year I was seconded into RPDE – Rapid Prototyping, Development and Evaluation Program, which is a defence think-tank.
When did you make the move up to Queensland?
I moved up to Queensland about three and a half years ago with Airbus. I was working on MRH90s and then later for a short time on the ARH Tigers. I enjoyed working on the MRH90 and felt like I was able to make a valuable contribution. I've never looked back since moving to Brisbane. I love Queensland – the weather, the people, and there's a definite pro-active attitude up here. I feel like you can achieve so much in Queensland – there's a lot of support here.
How did you get started at Nova Systems?
I joined Nova Systems about a year ago. I knew a few people who worked there, and I was ready for a new challenge. They're a great company to work for. They have a real passion for the key areas that they do business in. They have great leadership and a terrific organisational culture. They're like an engineering family, and they keep free mint slices in the office fridge!
I have been in the industry for eight years now and have been able to gain experience with quite a few of the major players. I have made my career out of defence aviation and have worked on fixed wing and rotary wing aircraft – the P3s, MRH90 and ARH Tigers.
I am contracted into Boeing now and have been working on the Helicopter Aircrew Training System (HATS) program. This is quite a different project and there are a lot of opportunities for it into the future.
Nova Systems are very supportive of their staff, including the younger members of the team, and they encouraged me to apply for the AIDN award. I was incredibly busy at the time with the HATS project work, but managed to complete and submit my application just before the deadline. Despite that haste, you could say I had been working on my application for the past 10 years.
We know that AIDN provides an invaluable network for SMEs on a corporate level - how do you gain professional support as an individual?
I have been very active with professional bodies over the past 10 years. I joined Engineers Australia while still at university and I have been Chair of the Women in Engineering Queensland branch. I originally sought to get involved to increase my knowledge and seek support, but I started giving back nearly immediately. I have spoken at schools, universities and at a conference in the United States for Women in Engineering. Of course, when I was just a graduate, the ratio of giving back to accepting support was probably a little bit different, but over time that ratio changes. Even if you're a first-year graduate, you can still give back to a student. For me, it's definitely not just a job, it's a passion.
What are your career aspirations for the longer-term?
I absolutely love engineering and want to be an excellent engineer. I want to be someone that leads and provides valuable insight and can be a senior engineer in defence in the future. I've seen some inspiring leaders and would like to emulate them. I would love to stay on the technical path for as long as I can, as it is so beneficial to have that foundation knowledge. So, that is my focus for now—to get that experience, technical expertise, to practice every skill I can get and build my technical strengths.
It's such an interesting time to be involved in defence with the submarines and Joint Strike Fighter projects underway. There's quite a lot happening out at Amberley. I would like to stay in the aviation space and keep learning. I have worked on a few aircraft platforms now, but more experience would strengthen my skill set.
What are your interests in your down-time?
My husband and I are mad keen vegetable gardeners and we have grown some zucchinis that are nearly a metre long! I have less spare time because I get involved in so many engineering activities. I signed up to run the Mater Hospital 10 kilometre but can't yet run five kilometres, so it's an opportunity for improvement. I like the expression, the hotter the fire the stronger the iron. I'm prepared to give everything a raring red hot go.
How did you feel when you were announced as winner?
When I won, I thanked my husband, my parents, and Nova Systems, and then I said that people often say that behind every good man is a good woman, but behind a good woman is a lot more good women. I have actively sought out opportunities throughout my career and have experienced the advantage of having a strong peer support network though women in engineering groups. There's nothing parents want more than equal opportunities for their daughters.
About AIDN
The annual Young Achiever award was created in 2008 to recognise the important contribution made by young people in Australia's defence industry. The award is across AIDN state and territory chapters with those winners then competing for the national award.
The Australian Industry and Defence Network is an association which aims to generate business opportunities for its SME members both locally and via global supply chains. The network operates in each state and territory and has over 800 members.
For more information please visit their website.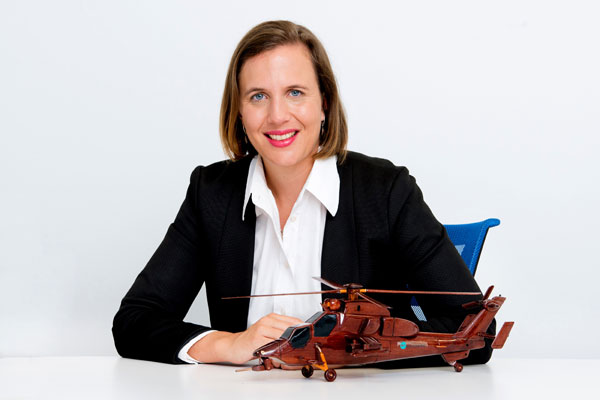 Rachel Harch with a model replica of the ARH Tiger that she has worked on
Last updated: Wednesday, Apr 12, 2017